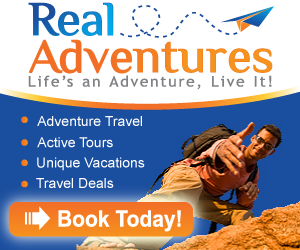 Every day, RealAdventures helps thousands of travelers find great accommodations, plan relaxing vacations and pursue exciting adventures.

From romantic bed & breakfasts to luxury vacation rentals, from bungee jumping to safaris, and from Alaska to Zimbabwe, RealAdventures is a comprehensive resource for travelers around the world.

We help travelers, vacationers and adventure seekers find great ideas for their next vacation. They can contact the travel companies directly to make reservations and travel arrangements.
Are you looking for those unique adventures around the world? Want a real adrenalin rush? Then you must try Real Adventures offers that are above and beyond the average typical adventure. You'll see destinations before your very eyes that you didn't think existed.
Back to: Unique Travel World Wide